Here at Prosol UK we've spent the last five years learning all about EV fires, not only because they directly relate to the products and equipment we supply to provide safe working with EVs, but also because it's a very interesting topic!
The most common form of fire in electric or hybrid vehicles is when the high energy battery is damaged, or a manufacturing fault causes the battery to go into "Thermal Runaway". This is when a cell short circuits and the heat generated starts a fire, this in turn creates a "domino effect" and the fire spreads from cell to cell.
By deploying an EV Car Fire Blanket the combustion potential can be minimised by depriving the fire of oxygen.
And because the fire is controlled, temperatures drop rapidly which prevents damage to surrounding vehicles and property.
Following significant time and investment in research and development, we have created an electric vehicle fire blanket that is highly effective and has been evaluated at Horiba MIRA. Designed to deprive the fire of oxygen and reduce the temperature of the fire, the Prosol Electric Vehicle Fire Blanket is the ideal solution for limiting the potential widespread damage to other vehicles and adjacent property.
It can easily be utilised to cover any size car by two people as it measures 48m2 and weighs just 28kg.
The Prosol Electric Vehicle Fire Blanket is a essential item of health & safety equipment whenever and wherever electric vehicles are used, charged, parked, maintained and stored.
A wall mount storage box is also available FBC2295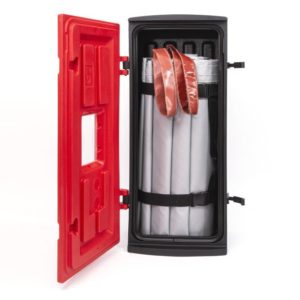 Click here to view the Fire Cloak Electric Vehicle Fire Blanket Demonstration video