We're super proud to announce that our Fire Cloak Electric Vehicle Fire Blanket has achieved Class 0 fire rating! What's more, we believe it's the only electric vehicle fire blanket in the world to have gained this certification.
The very highest certified standard relating to the fire-retardant properties of a product, achieving Class 0 underlines our commitment to creating the safest, most reliable, and trusted EV fire blanket available. But what exactly is Class 0 and why is it so important?
What is Class 0?
Class 0 is, in fact, an amalgamation of three different British Standard tests each relating to flame spread and propagation. When combined, these demanding tests will determine the standard of the material being tested. For a product to secure a Class 0 rating it must demonstrate both limited combustibility and a low fire propagation index.
The ability of a material to resist fire is measured in the tests and this is referred to as the 'reaction to fire' or retardancy. The structural integrity of the material is also assessed with inspectors looking at how the material specifically contributes to preventing or limiting a fire from developing.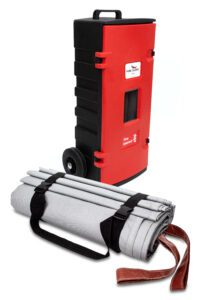 Why is Class 0 so important?
When we set out to design the Fire Cloak Electric Vehicle Fire Blanket, it was always our intention to one day achieve Class 0 rating. That's why we've been working with a market leader in testing, inspection, and certification services to reach this objective.
An electric vehicle fire blanket has two very clear roles: to starve a potential EV fire of oxygen and prevent it spreading thus mitigating any damage to surrounding vehicles, people or property. Anyone who purchases a Fire Cloak must have the confidence that it will function as stated. Therefore, achieving the very highest British Standard for flame spread and propagation was an absolute must for us.
The Class 0 rating is important for all our customers, and particularly for anyone who finds themselves in the position of having to use the Fire Cloak. It gives confidence that the claims and efficacy have been independently verified and certified at a UKAS registered test laboratory. The Class 0 rating epitomises assurance and peace of mind and that's essential when it comes to fire safety products for electric vehicles.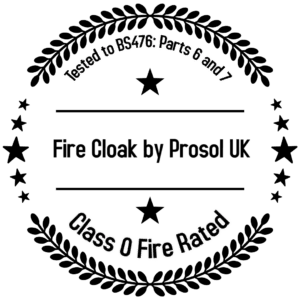 What does Class 0 rating mean for our customers?
In a nutshell, it provides the ultimate level of certainty that the Fire Cloak can deliver and do the job it is intended to do. And it's not just us at Prosol UK saying that, it's been confirmed by a professional independent UKAS registered test laboratory that specialises in fire safety standards.
Our customers have a duty of care to their personnel and their customers so they have to have 100% conviction in the ability of the Fire Cloak. Lots of companies must also prove that they are compliant and reach certain standards when it comes to fire safety. Many industries are heavily regulated in this respect and adding a Fire Cloak to their existing portfolio could help them to meet certain regulations.
Whether they manage an underfloor carpark or multi-point charging station, or are a ferry operator or vehicle recovery company, they must be reassured that, should they ever have to use the Fire Cloak, it will work. Gaining a Class 0 rating provides that reassurance since it is the highest standard of fire resistance.
Want to know more?
If you'd like to find out more about our Class 0-rated Fire Cloak Electric Vehicle Fire Blanket, please feel free to call us on 0114 255 7700 or email: sales@prosol.co.uk
Fire CloakTM is the only Vehicle Fire Blanket in the World that has attained a Class 0 fire rating.
BS476: Part 6:1989+A1:2009 – Test Result: I=4.3, i1=3.1 BS476: Part 7:1997 – Test Result: Class 1
Find Prosol UK and the Fire Cloak Electric Vehicle Fire Blanket Stand U92 at Automechanika from 6-8 June this summer. Please add the dates to your diary and be sure to pop by and say hello!